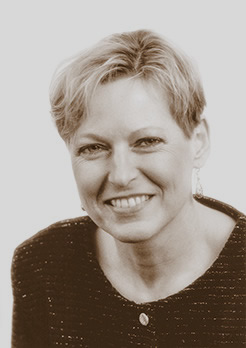 Training
Djoke Winkler Prins was born in Breda and received her training at the conservatories of Rotterdam and The Hague, where she studied with Corrie Daniskas-Van Zwieten and Sophia van Sante, respectively. She obtained her diploma in opera performance in The Hague, taking classes from Rita Streich, Erik Werba, Dorothy Dorow and Elisabeth Söderström.

Throughout her career she has studied with Aafje Heynis and American mezzo -soprano Jan DeGaetani, among others. Soprano Nicola Ferner-Waite and vocal coach Brian Masuda were also significant to her development.

Opera and ballet productions
In the early 80's, Djoke Winkler Prins joined the Dutch Opera Foundation's Opera Studio in Amsterdam, after which she was regularly asked to perform in opera productions. These included Pedro in Massenet's "Don Quichote", Miss Jessel in Benjamin Britten's "Turn of the Screw", Dorinda in Handel's "Orlando", and Die fliegende Prinzessin in "Schuhu und die fliegende Prinzessin " by Zimmermann.

Winkler Prins's career took her to Augsburg and many other theatres in Germany, where she sang the role of "Queen of the Night" in Mozart's Magic Flute. The Opera Forum in Enschede saw her perform roles such as Klorinda in "Cenerentola" by Rossini and Miss Wordsworth in Benjamin Britten's "Albert Herring".

She performed the one-act play "La voix humaine" by Francis Poulenc several times and in 2005 she sang the role of Rosalinde in a production of "Die Fledermaus" conducted by Jan Willem de Vriend.

She also received frequent requests to perform with the Nederlands Dans Theater, where she sang "Time Cycle" for soprano and orchestra by Lukas Foss and the role of the child in "L'enfant et les sortilèges" by Maurice Ravel.

Concert repertoire
Winkler Prins's repertoire ranges from Haydn and Mozart to Poulenc, and she has performed concerts with conductors such as Richard Armstrong, Christean Badea, Bruce Ferden, Bohumil Gregor, Anton Kersjes, Edo de Waart, David Porcelijn, Lucas Vis, Hans Vonk and Jan Willem de Vriend. In 1991, she recorded the concert arias by Joseph Haydn with the Radio Chamber Orchestra conducted by Louis Devos.

Contemporary music
While still a student, Djoke Winkler Prins showed great interest in contemporary music and eventually became a specialist in this field. She has collaborated with a variety of ensembles and orchestras, both in concerts and radio recordings of contemporary music. For example, Schoenberg's Second String Quartet in F-Sharp Minor: Opus 10 with the Raphael Quartet and "Jeux des Masques" for soprano, harpsichord and orchestra by Matteo D' Amico with the Radio Philharmonic Orchestra.

Music composed for Djoke Winkler Prins
Many composers have written pieces for her: among others, Burkhard Söll, Joep Straesser, Alex Manassen and Wim Laman. Both Jacques Bank and Peter-Jan Wagemans composed works for her and the Dutch Clarinet Quartet, an ensemble with which she performed frequently. Other works created for Winkler Prins were "From large and small birds" by Jacob ter Veldhuis, a composition for soprano and taped text by Lucebert, and "Totentanz" by Burkhardt Söll, for her to perform with the Gaudeamus String Trio.

Recordings of contemporary music
She made several CD recordings of contemporary music with various ensembles including the Duo Contemporain and the international group Entente Musical.
Jacob ter Veldhuis' "From large and small birds" appeared on CD in 1996, and in 1998 Winkler Prins recorded a solo CD with songs by Burkhardt Söll. In the same year another CD came out, "De Ploeg", in which she sings songs by Daniël Ruyneman.

Accompanists
Over the years, Djoke Winkler Prins has worked closely with several pianists who accompanied her song recitals and radio recordings, such as Kees Wieringa, Tom Bollen, Maarten van Veen, Diderik Vaneste. In 1986 she toured the United States with pianist James Burch, where she gave lieder recitals to great acclaim.

American Songbook
As an admirer of the Great American Songbook canon, Winkler Prins took lessons for years from Sylvia Gentil to refine her interpretation of these songs. This resulted in the production "All about Adam" in 2001/2, a musical for three singers and a pianist which included a wide selection of tunes from the American Songbook.

Present
Since 2002, Djoke Winkler Prins has collaborated numerous times with the BACH A L'ORIENTALE festival in Turkey. This was a project by pianist Anjelica Akbar in which she, together with many Turkish musicians, introduced Turkish audiences to Bach in her own way.
Ms. Winkler Prins said farewell to the concert stage in 2016. At present, she occasionally performs in informal settings.
Her main occupation now is teaching, something she has always done with great dedication and pleasure throughout her career.